PURR
'Pasalamat' by Ed Defensor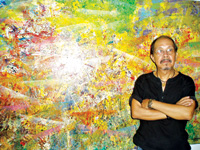 The artist, Ed Defensor with Opus 041.
Ed Defensor's current works are now on exhibit at the University of the Philippines in the Visayas (Iloilo Campus) Art Gallery. "Pasalamat" is one of the activities held by UPV in line with their alumni homecoming.
Here, Defensor's works delve into his fascination for the visual art elements of color and texture. Martin Genodepa, in his article on the artist, stated, "Defensor fills his pictorial surfaces with an array of colors and textures and somewhere in the flurry one can find a spot, a focal point, a hub that brings to mind H.R. Ocampo's obiter dictum on what a good painting is all about: unity, coherence, and emphasis in dynamic equilibrium."
These paintings are for sale.
Defensor's works since the 1980's are also housed permanently at the Ed Defensor Wing located just beside the UPV Art Gallery.
Prof. Vinnie Tan, chairman of the UPV Chancellor's Committee for Culture and the Arts and the Curator of the UPV Art Gallery, said that despite constraints they faced, they had no qualms of holding the said exhibit. "We have to advance and promote the arts," he said.
Indeed, UPV had been an active promoter of culture and arts. This is shown through the varied cultural and artistic activities that they hold all year round. The UPV Art Gallery, for one, has housed the works of countless Ilonggo artists.