Hotel Del Rio's Daily Lunch Buffet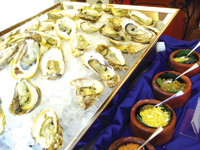 Talaba Station.
Cafe del Prado at Hotel del Rio is serving a fantastic lunch buffet from Monday to Friday and it is something that is worth coming to. Our lunch experience at Cafe del Prado was quite exciting because presented before us was a long table of varied Filipino dishes. We just didn't know where to start. It's like eating our moms' home cooked dishes but made even better and at a location that is air-conditioned and relaxing.
Kathy kept coming back for Bangus with Soy Sauce. They topped the milkfish with a batter, fried it crisp and then mixed with soy sauce and garlic.
Claire, despite her allergy for pork, found Binagoongan Baboy irresistible. The pork is so tender and the spicy and creamy combination of the chili, shrimp paste (bagoong) and coconut milk (gata) was just perfect.
Chicken Hawaiian was a favorite for both. The pineapple bits were cooked until they're soft, thus they blended well with the pineapple sauce and the chicken.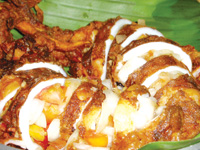 Stuffed Squid.
Eating Stuffed Squid can be quite challenging because you have to find the right dipping sauce in order to really make the food tasty. But Hotel del Rio's Stuffed Squid has an added plus – ginger, giving the fair its 'umami'.
Talaba lovers will surely delight at the Talaba Station. Fresh and huge talaba (oysters) are placed on top shaved ice in order to maintain their freshness. The diner can choose from toppings like cheese, cordon bleu and rockefeller.
These are some of the many delicious treats at Hotel del Rio's lunch buffet from 11 AM to 2:30 PM for only P280. The hotel also serves other buffet treats. Every Friday, there's a poolside dinner buffet. Every Saturday, Cafe del Prado hosts a dinner buffet and on Sundays, Cafe del Prado is the venue for brunch buffet.
Those who want to have their tables reserved or for more information, call telephone number 3351171 to 74.