PURR
Mesmerized By Sabel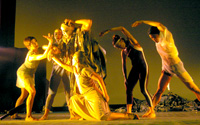 "Sayaw Sabel" was recently staged in SM City Iloilo. It was inspired by national artist BenCab's artwork "Sabel", a modern day reinvention of Jose Rizal's Sisa.
"Sayaw Sabel" is a collection of dances depicting how the Filipino goes through life as a Filipino, how he or she treads through challenges, trials and tribulations in the best way he or she could, sometimes successfully and sometimes dismally.
"Sayaw Sabel" showed that dance is a powerful vehicle to stir emotions especially when the performers are dancers who can also act.
They are Christine Crame, Anette Cruz-Mariano, Judell De Guzman-Sicam, our very own Annie Divinagracia-Sartorio, Grethel Domingo-Raypon, Gaye Galiluyo, Sonny Locsin, Alden Lugnasin, Camille Ordinario-Joson, Dwight Rodrigazo, Georgette Sanchez, Perry Sevidal, Nonie Buencamino, Shamaine Centenera Buencamino, Melvin Lee and Maribel Legarda.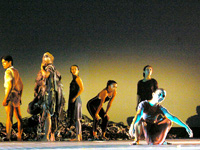 Each artist had a role to play and each showed every Filipino's trials. We were mesmerized. Except for a few laughs and sharing of comments with our seatmates, we were pinned to our seats and watched with full attention. It's hard to fathom a mentally-ill in his own world. We could just imagine the crushing pain of being left by a lover. We are reminded of the hardships and loneliness of an overseas foreign worker despite the shower of balikbayan boxes to their families. The funny side of a man stripping and dancing for money. Then there's the hope that we, during our old age would find someone to love and care for us. We felt and laughed with the artists as they successfully danced with grace, energy and so much emotion.
One viewer said, "We are all Sabels." How true. It took "Sayaw Sabel" to remind us of our varied lives, how some managed well and how some didn't (like the mentally-ill man and woman after losing their loves).
"Sayaw Sabel" was choreographed by Agnes Locsin, a native of Davao City and one of the country's most progressive choreographers. She is Ballet Philippines' former artistic director and chief choreographer.
The objectives of the project was to give life to the noble invention of BenCab, to inspire the audience by showcasing dances which show the versatility and strength of the Filipino to survive adversity, to create new movement in the constant search for the development of Philippine dance, as inspired by the movement observed needing to come out of BenCab's canvas; in choreography, to search for the ethnic soul of the urban native and to provide an opportunity for seasoned artists to show Philippine audiences the elegance of dance as only they can.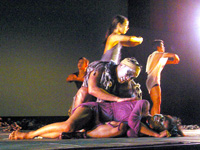 The show was a production of the Carmen Locsin Foundation in partnership with the Bank of the Philippines Islands (BPI), Ayala Foundation, Inc., Philippine Educational Theater Association, Ayala Malls, Ayala Museum, BenCab Museum and sponsors like Annie Divinagracia Sartorio School of Performing Arts, SM City Iloilo, Iloilo Biscocho Haus, Carlitos', Ms. Pangging Rosales, Toyota Motors, HALIGI Foundation, Iloilo Grand Hotel, Carlitos' and The News Today.
For those who missed "Sayaw Sabel", too bad that you didn't make it. It was worth going to amid the rains and the traffic that night.