Flavors redefined at Frances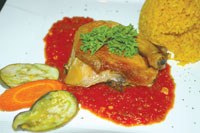 Roast Chicken in Piquante Sauce.
Flavors are certainly aplenty at Frances, a restaurant at Eon Centennial Hotel, which serves modern Asian and International fare.
Who says only shrimp could make a tempura exciting? Frances' Chicken Tempura with Onion Marmalade is a delight to those who want to experience another tempura treat. Dip that deep-fried chicken with crispy batter unto the onion marmalade to enjoy a sweet and subtly spicy taste. It is served with rice and buttered vegetables.
Another must-try is Roast Chicken in Piquante Sauce. It's a quarter size juicy chicken flavored with sauce that is made of shallots, white wine, vinegar, parsley and various herbs and seasonings. It is served with grilled vegetables and turmeric rice.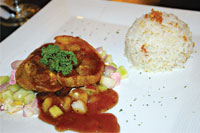 Crispy Pork Trotters.
Pork lovers will definitely find Crispy Pork Trotters a treat. They are fried pork legs laden with adobo jelly. It is served with rice and red egg salsa.
These are some of the ala carte dishes that Frances serves during dinner. They serve buffet for lunch. They also serve breakfast; just choose among Filipino, American and Continental favorites.
Enjoy these with Frances' house concoctions like Lime Quencher, Lemongrass Juice, Strawberry Frizz or Green Reduction.
Dining at Frances is quite comfortable with its low-volume music, soft lights and walls decked with mirrors creating that spacious look. Their staff is friendly and very attentive.
At Frances, flavors are definitely redefined.