A Presentation of Sounds

A seminar by Iloilo RadioShack & Stagecraft Trading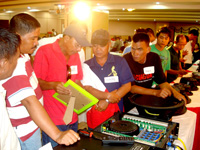 Demo of Integra Pro Power Amplifier.
Iloilo Radio Shack and Stagecraft Trading held a Stage Craft Training or a seminar on basic sound system set-up recently at the Iloilo Grand Hotel. High quality brands were on display for everyone to see. They presented the Allen and Heat Digital Mixer, Milan 15-powered speaker by Turbo Sounds, professional audio speakers and most of all, Iloilo Radio Shack's very own 3-step power amplifier, Integra Pro.
Radio Shack carries the best home theater systems, professional audio systems, karaoke, professional lightings, lasers as well as rentals and installation and other services.
It is located at No. 3 Mayflower Building, Mabini Street (beside Health Link).