Mel Varca's Birthday Bash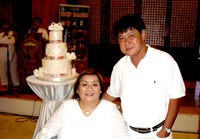 Birthday celebrators Mel and Lito Tiu.
"White is the new black for this year," says fashion stalwart Mel Varca, who presented her all-white collection before a gathering of close friends and family during her birthday dinner at the Sunset Terrace of Hotel del Rio.
Mel, who is known for her heavy embroideries and beaded gowns opted for simple lines, which is not just a breath of fresh air but a sign that she is gearing up for a new look that will definitely be a new Varca signature,
Her models during the show were pretty daughters of her ever loyal followers, which goes to show that Mel is here to stay despite challenges that nearly hampered her meteoric success in the fashion industry.
As the saying goes " You can't put a good (designer) man down!"