A Feeding Program for Aetas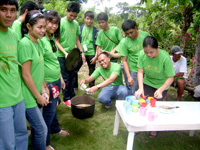 NSTP students happily preparing the food.
A project of the Kiwanis International of Roxas City
Roxas City, Capiz – KIWANIS is an international organization that has clubs in 100 nations and more than 600,000 members including youth organizations which is all part of the Kiwanis family. Kiwanians are business and professional people who desire to improve their communities through personal involvement in leadership and service to others
The slogan of Kiwanis is "Serving the Children of the World" and recently, the children of the Aetas in Aglalana, Dumarao and Grade-1 pupils of Aglalana Elementary School were the beneficiaries of Kiwanis K-Kids Feeding Program, a joint partnership feeding program with the National Service Training Program (NSTP) of Filamer Christian University (FCU).
The Kiwanis K-Kids Feeding Program was formally launched last July 25, 2010 in Aglalana, Dumarao with KIWANIS Club and the FCU-NSTP in cooperation with Aglalana Baptist Mission Church in Dumarao, Capiz.
The program aims to address malnutrition and nutrient deficiencies by providing supplemental feeding of nutritious fortified rice with soy protein meal package and add-on of nutritious leafy vegetables like squash and malunggay to about 50 children of the Aeta community in Aglalana and 50 Grade-1 pupils of Aglalana Elementary School. The feeding of fortified rice with soya protein meal package will be provided by Kiwanis Club throughout the three-month feeding period with 3 times a week feeding schedules.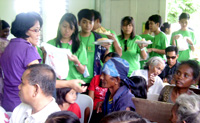 Volunteer-students of FCU NSTP-CLEAN with adviser Prof Vima Olivares.
Kiwanis Club past district governor, "Ike" Altavas, the prime mover of the activity, with Dr. Jose "Peping" Barrios and other Kiwanis Club officers and volunteers graced the occasion, with Dr. George Cortel, FCU Vice President for Academic Affairs, representing the university and Victoria Dela Tina, principal of Aglalana Elementary School. The launching was also supported by the presence of the newly installed officers and board of directors of the FCU NSTP-CLEAN (NSTP-CWTS Leaders for Environmental Action Network), an organization of NSTP-CWTS students of FCU. Guests from Germany, Harald and Cristina Hesse, also joined the group. A sumptuous native lunch was prepared by Marilou Contreras-Porras.
After the feeding program, an input on dental hygiene was given by Dr. Omega Bornales, a private dentist practitioner, followed by free distribution of toothpaste and toothbrushes for the Aeta children.
Kudos to KIWANIS, a laudable activity indeed!