Milagrosa-J Shipping and ICILC hold medical mission in Lapuz and Tabucan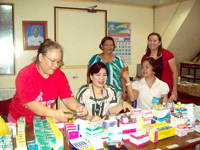 Josette Jardiolin of Milagrosa-J Shipping (left) who is also a Lion with other volunteers at the pharmacy.
Milagrosa-J Shipping and the Iloilo City Integrated Lions Club (ICILC) have somehow eased the burden of the residents of Barangay Lapuz Norte when they held a medical and dental mission there recently.
Medical exams and dental services as well as medicines, which are normally expensive, were given free to the residents.
A bloodletting activity was likewise held.
At hand to assist the representatives of the company and ICILC were members of the Navy and the Police.
In another effort to serve the public, the ICILC held the same outreach activity for the residents of Barangay Tabucan, Mandurriao. This activity was a joint effort with the Western Visayas College of science and Technology (WVCST). Some 400 residents benefited from this endeavor.