PURR
Books for Child Laborers of Iloilo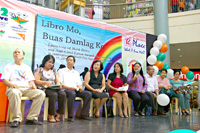 Dominic Maquiran of UPV, Gina Espinosa, president of the Iloilo Cultural Research Foundation; Minda Brigoli, DSWD 6 director; Daphne Culanag, project director of ABK2 Initiative; Crispin Dannug, Jr, DOLE 6 OIC-Director; (3rd to 7th from left) and Dr. Corazon Tolohan of DepEd (far right), are joined by representatives from other sectors during the launching of ABK2 Initiative's Book Drive at Robinsons Place Iloilo recently.
THE Province of Iloilo has numerous child laborers. Instead of spending more time in school, these children endanger themselves in sectors like sugarcane plantation, commercial agriculture, fishing, domestic work, pyrotechnics, mining and quarrying, scavenging and commercial sexual exploitation. A project which ensures that these children veer away from these occupations is the ABK2 Initiative or Pag-aaral ng Bata Para sa Kinabukasan II, a four-year project being implemented by the World Vision Development Foundation with the support of ChildFund Philippines and Educational Research and Development Assistance Foundation (ERDA). The funding for this project is provided by the United States Department of Labor (USDOL).
The ABK2 is enjoying gradual success. With the financial support and other assistance given to the children and their families, the students need not work themselves to death. But, the effort does not stop there.
These children go through a Catch-Up program wherein they undergo tutorial lessons for several hours every weekend. Their mentors are "little teachers", students themselves who were trained to be mentors. And some of them are even successful beneficiaries of the ABK2 project.
Books are needed for use in the Catch-Up program, thus ABK2 launched a book drive in a simple but meaningful program at Robinsons Place Iloilo recently.
For those who want to donate books for the child laborers of Iloilo, the drop off points are: Robinsons Place Iloilo Information Booth, West Visayas State University, University of the Philippines-OCEP, Central Philippine University, Western Visayas College of Science and Technology and the World Vision Office at 402 Arguelles Building, E. Lopez Street, Jaro, Iloilo City.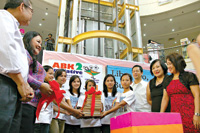 The turnover of books to the ABK2 Little Teachers who will make sure that these are read during the Catch-Up Program.
After the book launching, the 2nd Gawad Aclat was launched as well. This is an anti-child labor award for teachers, adult para-teachers and little teachers who have made remarkable contributions in preventing and eliminating child labor through education. Those eligible are all ABK2 teachers who have actively and effectively utilized the different inputs of the project to eliminate the worst forms of child labor in their areas and all adult para-teachers and little teachers providing catch-up activities among struggling learners. The nominees should have demonstrated effective utilization of one or more of the five aspects of social development such as research, advocacy, networking, direct service and documentation.
With these projects, it is hoped that more child laborers are brought to school, for that's where they should be.
As the ABK2 Initiative's battlecry goes: Child labor untaton, bata paeskwelahon.