A Tour of the Benjamins' Legacy in Dumarao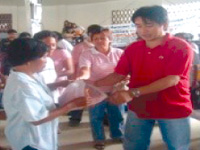 The youngest mayor of Capiz distributes goods to the indigents of his town.
MAYOR Leslie Warren "Beboy" Benjamin of Dumarao, Capiz is continuing the legacy of good governance and administration left by his late father, Mayor Heracleo "Bebot" Benjamin in their beloved town.
"I want to continue the vision of my father for progressive Dumarao which he bequest to me before his death in 2007," the young mayor said.
Mayor "Bebot", the father, built the multi-million municipal hall, the town's civic center, development of the town plaza, construction of public market, among many others. It was during his mayoralty term when Dumarao was adjudged as the "Cleanest and Greenest" town in Western Visayas.
Mayor "Beboy", the son, in his part, continued the town's infrastructure development by constructing the Zubiri park in the town plaza, foot walks and rehabilitation of bridges, built the Barangay Bagsakan Centers for farmers' produce and cattle for sale, and delicacies center in the public market, among many others.
The young mayor also has 380 scholars who are poor but deserving students studying in Capiz State University and Dumalag Vocational and Technological School.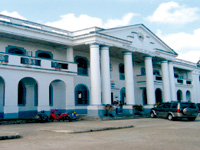 The impressive Dumarao municipal hall.
On agricultural development, the present Benjamin administration was able to distribute seeds, fertilizers, and conduct school-on-the-air for corn farmers, as well as develop the hog/livestock raising of farmers. He also introduced tilapia production to his constituents as alternative livelihood.
The administration also maintained environmental ordinances, conducted IEC conservation campaigns, effective solid waste management board with functional plans which resulted to effective solid waste reduction.
Mayor "Beboy" finished his primary education at Assumption-Iloilo in 1986 and his secondary education at the University of San Agustin in 1990 and earned his Bachelor of Science in Commerce at the same university in 1994.
He became SK president and he was elected Sangguniang Bayan member for one term. He was elected as mayor of Dumarao in 2007. Now he is in his second term as mayor of the municipality.
The good mayor is married to Mariel Diangson-Benjamin who is the niece of the late Mambusao Vice Mayor Ramon Diangson and cousin of former Mayor Raymar Rebaldo of Kalibo. They are blest with one child, Lauren Maquisha D. Benjamin.
Aside from his late father, Heracleo "Bebot" Benjamin who served as vice mayor from 1988 to 1989 and mayor from 1998 to 2007, Benjamin's grandfather Ramon Arancillo Benjamin also served as mayor of Dumarao for several years. Thus, Mayor "Beboy" is a third generation politician in his family and continues to carry on the torch of selfless service for the progress of their beloved town of Dumarao.