Cold Sandwich Treat at Coffeebreak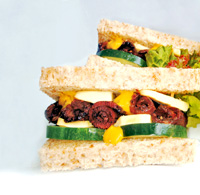 Roast Beef.
Now, you've got more reasons to engage a Coffeebreak cup!
When hunger sets in, find your way to the nearest Coffeebreak and be delighted with CB's medley of Cold Sandwiches that's sure to delight the sandwich buff in you.
Choose from the lip-smacking double-decker CB Club Sandwich or the fresh tuna delight of CB Tuna Dill Sandwich, Taste cheesy chicken with CB Chicken & Cheese Sandwich, or the delicious CB Roast Beef Sandwich with enticingly stuffed rolled beef slices, and the classic can't-go-wrong delight of CB Cheese and Egg Sandwich.
Best paired with your favorite Coffeebreak drink, these delights surely will make your everyday a sandwich superb day!
(Cold Sandwiches available at CB Avenue, CB Valeria, CB Nelly's Garden, CB Metro, CB Atrium, Cb Robinsons and (Airport outlets) CB Predep, and ICVB).