All-around artist wins Amigo Billboard Making Contest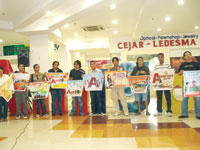 The finalists show off their works.
DENNIS Arungayan, a freelance designer, is the champion in Amigo Plaza Mall and Amigo Terrace Hotel's Billboard Design Contest held recently. His design showed that Amigo Mall is every shopper's wonderland.
Arungayan has been a digital artist for five years now. He is also into digital animation, does photography and video editing.
"Since I was small, I've been fond of beautiful things. When digital cameras came into being, I was encouraged to get into my craft," he said.
Arungayan is a native of Trapiche, Oton although he was raised in Davao for 17 years.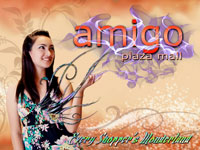 Entry that won first place by Dennis Arungayan.
Arungayan's winning work will be used by Amigo Plaza Mall and Amigo Terrace Hotel for its billboard. The said contest gave Arungayan and other artists a chance to shine.
"Instead of getting an advertising agency, we decided to engage local talents to participate. By advertising Amigo, we will be able to help others as well because designers will enhance their talent through this project," said Gigi Sy, supervisor of Amigo Plaza Mall.
More than 50 entries were submitted after a three-hour on-the-spot designing activity early July. Then, the top 15 were chosen and last July 31, 2010, the top three winners were announced.
The second place went to Sharlyn Joy Velasquez, who equated being in Amigo to having a cup of coffee – relaxing and a great experience. The third place went to Ralph Angelo Arbis, who stated the "Amigo is where great things happen."
The Media Choice Award was given to Rommel Ciasico for showing that Amigo Plaza Mall and Amigo Terrace Hotel is where one can shop, dine and relax.*