Uygongco Foundation, Inc. Gives Hope to Its Scholars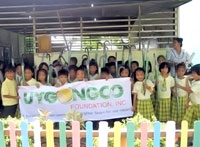 At Hibao-an Elementary School.
Uygongco Foundation, Inc. started the school year 2010-2011 by giving out school bags, school supplies, and umbrellas to its 400 scholars distributed evenly in 10 schools here in Iloilo City; Jordan, Guimaras; and Pres. Roxas, Capiz.
The distribution of the school needs of the scholars is part of the Scholarship Program of the Foundation where school needs are given to help reduce the causes of drop out in schools.
The distribution of the school supplies, bags, and umbrellas were held in the respective schools were teachers and principals encourage the scholars to strive hard and not to drop out of school given the support extended to them.
The scholars of the Foundation are not the regular "poor but deserving" ones. The Foundation caters to those who are in the bottom of the class–financially and academically. Passing grade for elementary is 75% and 80% for high school.
With these, the Foundation hopes to be able to effect a positive change in the lives of the young and their families.
The list of school supplies to be distributed came from the scholars and the teachers as their priority need in school. In their bags were: notebooks, pad papers, long bond papers, short bond papers, art papers, graphing papers, ballpens, pencils, ruler, glue, scotch tape, plastic cover, and others. Scissors, crayons, sharpeners, and erasers were given previously. Dictionary for English and Filipino were also given previously to high school scholars.