Gigi's 28th birthday treat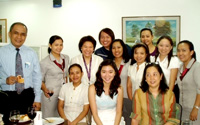 The celebrator with Joks Solinap, Jeanette Alla, UFI Executive Director Pia Uygongco, Myke Pelaez, Margret Ame, Joy, Gerthrude Sorianosos, Lorence Gustilo, Tina Bolante, Jean and Maria Celia Senecida
It was a simple yet fun birthday celebration for Gigi Sy, administrator of Amigo Plaza Mall, when she turned a year wiser recently.
She looked splendid during her special day, dressed in her white and baby blue Plains and Prints number, with a pair of Jennifer Lopez shoes to complete the look.
She treated her officemates to snacks catered by no less than Evergreen Wheat and Oats Bakeshop (their ube bread and chocolate chips bun are must tries!). She also sent snacks to her La Filipina Uygongco Corporation family.
In the evening, she had a simple dinner with her family.
This fabulous gal's wish for her birthday was simple. "I hope to find and give happiness on my 28th year. Out with the old, in with the new," she said, smiling.