The videoke sensations of NN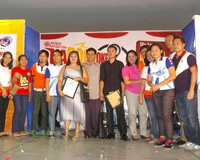 The winners with NN's officers and staff.
Negros Navigation's Ka-rock-oke Caravan's Iloilo leg was spectacular because it was a showcase of talents in singing and comedy.
Nine contestants from different districts of Iloilo competed on who will be hailed as NN's singing sensation. The champion, Joanna Mariveles, from Jaro received P10,000; Ralf Narandan from La Paz, first runner-up received P5,000; and Danilo Paez, from Iloilo City, second-runner-up received P3,000. They all received travel certificates from NN.
The judges were ABS-CBN Manager Charie Ginete-Ilon, The News Today, City Tourism Officer Ben Jimena and this writer.
The audience laughed at the antics of Maui Pacquiao. The On The Spot Dancers and Image Dancers also provided entertainment with their terrific dance maneuvers. Maui and the said dancers are regular entertainers onboard NN, so just imagine how fun it is to take NN when you travel.
The event was in line with NN's celebration of its 78th anniversary.