Girls just wanna have fun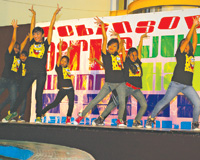 Original Nasty Girls.
Robinsons Place Iloilo and JPC Production's popular all-girls dance competition "Girls Just Wanna Have Fun" started recently with the holding of its first elimination. The program, held at the mall's grandiose fountain area, opened with a dance number by Koa Dancers, an all-male dance group.
There were five groups that competed. Three groups were chosen and they were Assassin, Angels Squad and Salog Dance Troupe, with the latter as the Best Performer.
The judges were this writer, Philip Jovan Banares and Reden Villagracia. They judged the groups based on choreography (40 percent), mastery (30 percent), over-all impact (20 percent) and costume (10 percent).
The second elimination will be on August 15, 2010. For groups who want to join, just visit Robinsons Place Iloilo's mall administration office for details and registration forms.