Bringing back the drums at Aura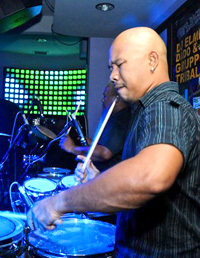 Gruppo Tribale.
Aura, the hip party place at The Avenue was the venue of a heart-thumping performance of Gruppo Tribale (formerly La Carlota Drumbeaters from Bacolod) along with the music of spin doctor, DJ Elmer Dado during one weekend last July.
Since Aura opened its doors to the partying public, Iloilo City had been more exciting.
It's an oh-so glitzy nightspot where everything fun starts and ends. The hippest place to party. A lightning rod once it stirs its disco beams. It will be a voguish fashion spot, where everyone will likely dress to impress, and express.The club spells of sophistication with super chic interiors, superb amenities, and a vibe just perfect for partyphiles.
And of course, there will be a hell-lot of good party music. Chill-out. Rnb. House. Remix. The strong, pulsating disco rhythm will be your night's best friend. And you'll say no to the glitzy dance floor, and the engaging party crowd.