PURR
Meeting Gina Alajar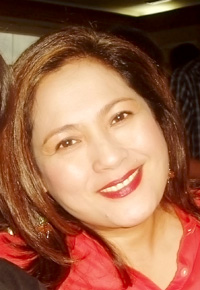 Gina Alajar.
Gina Alajar prefers to be the "kontrabida" in a story. Why? "Because you don't cry. It's the 'bida' that they ask to cry," she said during an interview with members of the provincial press during the press conference for Trudis Litt, held at the 17th floor of GMA7. In the new soap opera, Ms. Alajar plays the role of Lolly, the mother of Honey (Pauleen Luna), who happens to be the stepmother of Trudis Liit (Jillian Ward).
But she clarified that her role as antagonist in the teleserye is "not the reality kind of kontrabida. It's more like a fairy tale kind of kontrabida. Like Glen Close in the movie 101 Dalmatians."
Ms. Alajar was a child star herself. She started acting when she was eight years old, so she knows the pressures of being a child star. "I am not against child acting because we need child stars. In fact, there are many acting greats who started out as child stars. I just want to make sure that laws on children are properly implemented when dealing with these child stars, for example, not staying up late beyond their sleeping hours. Although, these children do it because of the fulfillment that they get," she said.
Ms. Alajar recalled that when she was a child actress, she couldn't sleep after eight in the evening because there are still shots that need to be taken after dinner. "So, I slept at 10 in the evening. Then, they woke me up at 2 in the morning. When they did that, I didn't want to get up. Now, I don't sleep at 10 in the evening until one in the morning because I get irritable when people wake me up. Somehow, I traced it back to when I was younger," she said.
Now, Ms. Alajar is 42 years old and still looking young and flawless as ever. "I'm glad I lasted this long. Well, I had nothing else to do. I love acting. The passion for acting made me stay," she said.
Now, her son Geoff Eigenmann is making waves in show business. When asked how things are with Geoff being popular, she said, "Okay naman. Pwede ko pa namang mautusang kumuha ng tubig para sa akin. And people refer to me as 'nanay ni Geoff'" (laughs). Anyway, I'm happy with his achievement, that he can build up himself and that he can now plan his life. I want my three boys to have their own lives. If I go anytime soon, they are in very a good position."
Ms. Alajar said that she's in favor of Carla Abellana being Geoff's girlfriend. "If there's one woman that I want Geoff to marry, it's Carla. Anyway, as long as my sons are happy. I told them that they know if they are in a good relationship. It's when the person brings out the best in you."