Havaianas kicks summer goodbye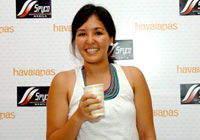 Havaianas Operations Manager Camille Labayen.
The world's favorite flip-flops, Havaianas, "kicked" summer goodbye with a party blast at Bourbon Street, Smallville Complex, Iloilo City. Iloilo's most invited yuppies and Havaiana-ticos trooped in their comfy Havaianas and enjoyed the open-bar booze, freebie items, and entertainment that includes fire-dancing and the latest disco mixes from celebrity British DJ Pav Parrote.