Blessing of SPHI's New CADMA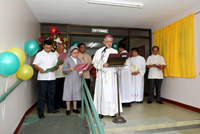 SPHI Administrator, Sr. Ma. Linda N. Tanalgo, SPC with Archbishop Angel Lagdameo, DD, who presided the Mass and the Blessing and Re-Dedication of the CADMA Building.
Saint Paul's Hospital Iloilo widens horizon as a healthcare facility on its 100 hundred years of healthcare excellence
JUNE 21, 2010 witnessed the yearly commemoration of St. Paul of Chartres' founder Fr. Louis Chauvet at the CADMA (Cardinal Dougherty Memorial Annex).
This year's celebration is in time with the re-dedication of the CADMA Building, which now houses the out-patient-department (OPD) and the private rooms at the second floor, to Cardinal Dennis Dougherty.
The event began at 8:00 in the morning with a Eucharistic Celebration led by Archbishop Angel Lagdameo, DD as the main celebrant. The mass highlighted the spiritual achievements of Fr. Louis Chauvet and the humble beginnings of the Sisters of St. Paul of Chartres.
After the mass, everyone including the main and co-celebrants proceeded to the CADMA Building for the blessing and re-dedication of the building to Cardinal Dennis Dougherty. The blessing was presided still by the Archbishop and along with his co-celebrants. A short liturgy was read before the Archbishop and the priests proceeded to the different rooms of the new CADMA building, including the second floor to formally bless each one.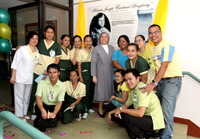 Sr. Mary Hazel Tabada, SPC, Director for Nursing Service with the Hospital Nursing staff.
This occasion is in line with the Hospital's efforts to continuously improve as a healthcare facility and in keeping their eyes open for opportunities to continue to innovate and maintain the standard for excellence.
The day is celebrated as such because if not for Fr. Louis Chauvet's mission of charity to the poor, the Sisters of St, Paul of Chartres would not have been born and the apostolic mission and service of 100 years never began.