PURR
The DSPA Newspaper Gown Extravaganza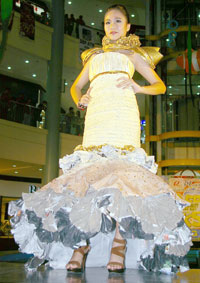 The winning gown.
The Diaz Speech and Personality Development Academy (DSPA) headed by Rowena Diaz, held a newspaper gown competition as part of its summer workshop's culminating activity.
Out of the 11 newspaper gowns, that of Jennifer Entripido, won. She used gold, bronze and black colors as well as sequins and metallic-colored flowers. She added braided newspapers on the bust to the torso area. A structured gold bolero completed the striking look.
According to the students, participating in the said competition enhanced their creativity as well as taught them discipline. They were also made more aware of the importance of using environment-friendly pieces in whatever piece they make.