PURR
A gathering of the Daughters of Mary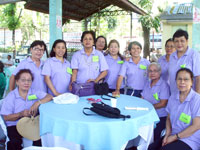 St.Joseph Husband of Mary Circle of Balantang, Jaro, hosted the event.
THE different DMI chapters in Iloilo gathered for a Sportsfest at the Barangay Balantang Gym in Jaro recently. The oftentimes bare gymnasium was transformed into a venue of fellowship and team building as each group, dressed in their official color, took part in the varied activities planned for the day-long event.
The gathering started with a mass, followed by the singing of the national anthem and the DMI hymn. Teng del Castillo, Vicariat Regent of the Our Lady of Montserrat Circle, welcomed everybody to the event. Emma Ingalla of Our Lady of Fatima Circle, introduced Chit Cava, the guest speaker. Cava led the delegates in a prayer for protection and then talked about Morality in Media. An open forum and lunch followed. Then, it was time for team building activities and the fun began.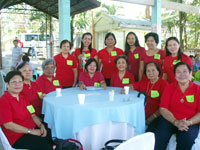 Our Lady of Candles, Jaro.
After the games and cheers, Lucy Buendia, Past International Vice-Regent and Jean Pama, Regent of the Our Lady of Montserrat Circle, gave their inspirational message and closing remarks respectively. A group singing capped the gathering and soon, it was "home sweet home."
The DMI in Iloilo is part of the Congregation of the Daughters of Mary of the Immaculate Conception, which has its roots in New Britain, Connecticut in 1904. It started with eight devout young ladies of the Society of the Children of Mary who formed a community that helped the orphaned. More than 100 years after it was founded by Right Reverend Lucian Bojnowski, the organization has become a stronger reflection of Mary's virtues–generosity, sacrifice, simplicity and humility.
The members take part in personal and communal prayers. It is through these that the members are strengthened so they could effectively minister to the community. Their projects touch on education, health care, social services as well as strengthening the community's spiritual state.