I-TRAVEL
Crossing Borders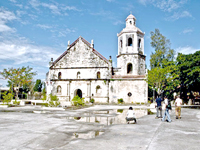 The San Joaquin Church.
DURING the last weekend of May 2010, the representative of Crossing Borders Program visited the Philippines. He is Ed Ng, a photographer and banker from Singapore.
Ng is the scout photographer of the Crossing Borders Program that encompasses Singapore, Indonesia, Malaysia, Thailand and the Philippines.
Some 80 photographer members of Crossing Borders will come to Iloilo City after visiting Cebu and Bacolod. Thus, the Federation of Philippine Photographers tasked the Photographic Society of Iloilo, Cebu and Bacolod to lead the group's visit in the Philippines on November 2010.
The Photographic Society of Iloilo under the leadership of Carlos Garcia, will act as host and guide when the delegates are here. The delegates will photograph varied interesting subjects in our city and province.
Seeing photographers from East Asian countries would be a fun experience come November 2010!