When uncle Sam meets manong Juan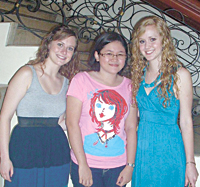 The writer (middle) with her American friends.
A transcultural nursing experience
I OFTEN wonder what it would be like lying lazily on a frosty ground while making snow angels, how would look like wearing thick sweaters, scarves and mittens, what it would feel like eating a plate-sized hamburger for lunch and a bowl of vegetable salad for dinner, what it would be like if I was American, if I had blue eyes, fair skin and freckles instead of being a Filipino.
For one week, I was a local buddy to Alyssa, an American Nursing Student who participated in a Transcultural Nursing program between West Visayas State University and Truman State University, Missouri, USA. Transcultural Nursing delves on the universality of nursing care. However, the variance of cultures created different methods to express care. Wherever you are in the world, a patient in pain will always seek relief.
Anyway, my article will discuss the top three qualities Filipinos have that leave foreigners astounded and dropped-jaw, well Alyssa and her 11 classmates, at least.
Resourcefullness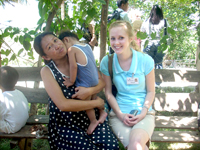 Alyssa poses with a woman and a child during a trip to a barangay.
During our exposure at the Medical Ward, Alyssa witnessed how an empty IV bottle was transformed into an improvised urinal, how it was turned into a vomitus container, sputum collector and a basin. Having limited resources forces the discovery of the various uses of potentially garbage-worthy materials. In the United States, they're living in a heavenly prototype with rare power failures, adequate insurances and every patient in hospitals has their own factory-made urinal. But you know what, we can go on and push through because of our cunningly useful talent of using what is available to create something. "There are a lot of things we took for granted back in our place (USA) which you guys here have found to be very useful. I think we could have saved a lot more of our resources if we only knew things could be done that way."
Optimism
Filipinos are one of the few poor people who could still bear to smile despite their hard-up condition. I remember one newsflash aired on the television wherein the reporter was asking a statement from a family that had witnessed how a fire progressed in their village. The family members still found it in them to smile and wave at the camera.
Our happiness level is always set to a full maximum regardless of varying conditions. "I like children here in the Philippines, they're always happy."
Faith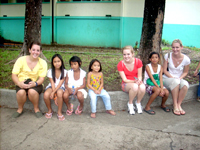 Alyssa and her fellow student nurses with village kids.
During our Community Health Nursing exposure, the American Nursing Students saw how a typical Filipino family in the rural areas survives. They witnessed a rebirth of the biblical multiplication of bread as the Php 200.00 daily income fed 12 children, a father, a mother and miraculously, their pet pigs.
Filipinos continually rely on God's providence. Here, every day is a miracle. "Your faith is really strong. Good for you."
Sure, the Americans have the technology, money, power and other tangible resources. Filipinos, on the other hand, rely on these three values that make them survive.
Yes, I still wish to see snow fogging my window or look American like Alyssa. I still am looking to the possibility of me wearing mittens and scarves. But everything stops here. My culture taught me to survive. Rainfall and muddy soil taught me to be always prepared. A darker skin spared me from a high-risk of developing skin cancer. Simpler wardrobe saves me a lot of water and electricity from washing and ironing such thick winter clothes.
Well, it was an amazing exchange of cultures. But I guess we'll all be sticking with our own. Besides, that's what Transcultural Nursing is about. Different cultures united with one goal – care. (Reactions to reylangarcia@yahoo.com)