DJ Yoshi live in Iloilo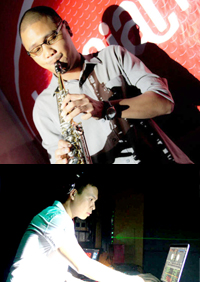 Beethoven on saxophone and DJ Yoshi Uy.
Featuring Beethoven on Sax
AFTER Manila and Bacolod, SPYCO Marketing Productions Manila hits Iloilo City and has set a benchmark for event production in Western Visayas.
They always think of new ideas so they could get people hyped up and interested in their events. This time, the collaboration of a top-caliber, celebrity DJ and live saxophone performance was the eye-opener for the city. This was successfully done by SPYCO in Bacolod City. They decided to bring the same concept to Iloilo City. This is actually a concept that hasn't been done in any event in the country. This goes to show the creativity and innovativeness of SPYCO.
After the success of DJ Yoshi live in Iloilo, which also featured Beethoven on sax, SPYCO promises to be back soon.
SPYCO's producer is Manuel Yulo Barandiaran.