PURR
Ms. Silka Iloilo 2010 named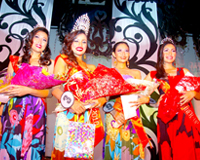 First runner-up Sheryl Mae Manalo, Miss Silka Iloilo 2010, 2nd runner-up Jocelyn Caceres and 3rd runner-up Ronelie Pador.
Charmaine Gail Nunez, a freelance host, bagged the coveted title of Miss Silka Iloilo 2010 during the pageant night held last May at the CAP Auditorium. The other winners were Sheryl Mae Manalo, first runner-up, Jocelyn Caceres, 2nd runner-up and Ronelie Pador, 3rd runner-up. Each received a cash prize, sash, trophy and gift pack from Cosmetique Asia.
The 14 contestants competed in several events before the grand finals. They were the swimsuit and resort wear competition and talent competition. The long gown competition was held during the grand finals. The ladies donned the swimwear created by Ian Jorda and John Montinola while their gowns were designed by Alex Soncio of Alta Moda.
The guests were entertained by the Tribal Quest Dancers and most especially, Sexy Saucy Saicy who was a splendid dancer.
The event was organized by TMX, your travel and marketing experts, who are also handling the Miss Silka Tacloban 2010 search.
The producer, Cosmetique Asia is the company that manufactures Silka, a big player in the cosmetic industry. They produce Silka (soap, lotion, body wash, facial cleanser and night cream), Juicy Cologne, Juicy Lotion. Frost Deodorant and Define Styling Gel.