KCARSI joins global expos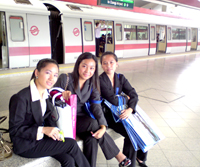 The delegates while taking a break at the train station.
KCARSI (Kryz Culinary and Restaurant Services Institute) joined the Food and Hotel Asia 2010 exhibition in Singapore last April. FHA2010 is the biggest international food and hospitality expo. It is a one-stop sourcing platform for Asia's growing food and hospitality industries. It offers professionals in the related fields a view of fresh foods, food products, and the latest in equipment and cutting edge technology from 63 countries and regions across the globe.
The KCARSI delegation, composed of Mary Queen Carillo, Ave Geyll Carillo, Johanna Baptist Carillo and Cynthia Dagol, also attended the Wine and Spirits Asia 2010 (WSA2010), a separate show that is co-located with FHA2010l. The group were awed with the wine and spirit products and services there.
By attending the FHA2010 and WSA2010, the KCARSI family gave a boost to its reputable ability to provide for quality education in hotel and restaurant services.
KCARSI is located at Bonifacio Drive. They can be reached through telephone number (033) 5086714 or mobile number 0908.9289.284.