A story to tell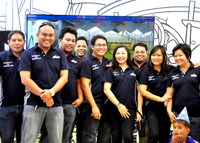 SMART employee-volunteers who played "big brother or sister" to the children.
A memorable summer storytelling graduation for GK Sooc kids
The kids of the PLDT-SMART Amazing Gawad Kalinga (GK) Village in Sooc, Arevalo, Iloilo had a memorable graduation from this year's summer storytelling sessions.
In partnership with SM City Storyland, Smart Communications, Inc. (SMART) brought the kids to the activity centers of SM City Iloilo.
After the graduation ceremonies, the kids were allowed to go on the theme park rides. For a couple of hours, they filled the activity center with laughter as they enjoyed the different recreational activities and amenities.
The children also received school supplies, school bags, t-shirts, storybooks and school envelopes recycled from tarpaulin by the GK Sooc tarp recycling group. A brand-new PC package with Smart Bro Prepaid Plug-It was also turned over to GK Sooc for the use of the GK Sooc Terracotta Youth Artists Group, and the GK Sibol School.
Some 50 kids and 40 GK Sooc youth volunteers and Sibol teacher volunteers participated in the activity. SMART employees played "big brother or sister" to the children during the culminating activity. Also helping out were volunteers from iServe Foundation, RockEd Philippines and Iloilo Press Corps.
The GK summer storytelling session began in April and was held every Friday at the GK village. The summer activity aims to help develop a reading habit among the children.
The PLDT-SMART Amazing GK Villages in Sooc, Arevalo, Iloilo is one of the GK Villages adopted by PLDT and SMART. Initiatives to provide homes and livelihood via GK are part of the community-building initiatives under the company's corporate social responsibility program Kabalikat.