Finding Heritage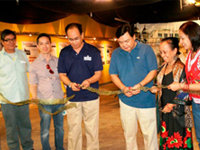 Eugene Jamerlan, Nonel Jamora, DOT6 Director Edwin Trompeta, Congressman-elect Jerry Trenas, Alicia Magos and Dr. Kristin Trenas.
THE Iloilo Cultural Heritage Conservation Council in collaboration with SM City Iloilo and other sponsors launched The Heritage Plaza with the theme, "Finding Heritage". It is a two-week exhibit of old preserved Ilonggo folk cultures and heritage.
On display were the the old infrastructure from the Spanish and Japanese regime. These are the buildings that can be seen at Downtown Iloilo, now known as China Town, due to the Chinese entrepreneurs who used to settle in the area.
The Nelly Gardens, the Lopez mansion and the Magadalena Jalandoni home, were also featured as the well-preserved ancestral houses in the province. They also showcased the beautiful and glorious local churches of Iloilo City. They are the Miag-ao Church, Sta. Barbara Church, Jaro Cathedral, Dindle Church, Guimbal Church, Cabatuan Church,Tigbauan Church, and Navalas Church which inscribed prestigious world heritage.
They also featured Iloilo's long-running businesses such as Panaderia de Molo, Biscocho Haus, Panaderia de Paa and native delicacies such as baye-baye, suman, kalamahati, muasi, bandi pinasugbo and a lot.
Moreover, students of HRM 224 of the CPU College of Hospitality and Management, led by their student coordinator Aiza Lobo, organized a heritage seminar entitled "Bulawan Nga Panubli-on Aton Pasanyugon: A Seminar On Ilonggo Heritage".
The displays on this exhibit were published on the two coffeetable books entitled "Estilo Ilonggo: Philippine Southern Lifestyle" by Reynaldo Gamboa Alejandro and Vicente Roman S. Santos and "ILOILO: A Rich and Noble Land" authored by the Lopez Group Foundation Inc.