Passion for Burgers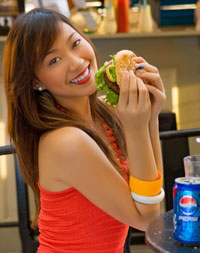 Craving for a real beef burger.
The Crave Burger Story
In early 2007, Ilonggo entrepreneur Senin Javellana established "Crave" in an idle 25-square meter space of Iloilo Business Hotel in Smallville, Iloilo City. Senin started off with "Crave" having known for originally serving a premium Manila-based ice cream product to the to the Ilonggo community. With an original business model of an ice cream parlor, Senin has been occasionally approached by enthusiastic customers requesting for a spin-off product that would best complement ice cream in a Yin and Yang manner to fully satisfy their cravings.
The answer? A burger with a personality!
With the young entrepreneur's passion for food and cravings, he then conceptualized a perfectly seasoned and healthy stand-alone burger inspired by a famous burger joint where he has indulged himself during a recent trip to the U.S. At first, Senin got all excited and buzzed-up with whole idea. However, he then realized that it's a good opportunity to reinvent a burger that according to him, would describe his audacious personality with a little "Pinoy" twist to a completely Americanized concept.
And there, the soon to be "Crave Burger" was first introduced into the market.
Crave Burger
As time passed by, Senin noticed that burger sales had suddenly sky-rocketed with customers' customarily acknowledging the burger's wonderful blend of 100% prime choice imported beef and savoury spices to create the perfect "Lasang Pinoy" burger.
By late-2007, Senin finally decided to alter what used to be "Crave" by adding another word making it as Crave Burger.
The Philosophy, Promise and Procedure
Since the beginning, Crave Burger's business philosophy is to simply provide customers with the freshest, first class, and highest quality products (ice cream, burgers, fries, and milkshakes) available in the market and to provide them with friendly service in a sparkling clean environment.
Crave Burger's commitment to quality starts with the burger patties. Every burger patty is made from fresh 100% pure beef free from additives, fillers, and preservation of any kind.
Crave Burger's commitment to quality doesn't stop there. Every lettuce is hand-leafed. The American cheese is the real thing. And the company only uses the plumpest and juiciest tomatoes and red onions available in the market. Every day, all ingredients are delivered fresh to the stores.
And Crave Burger makes every burger one at a time, cooked fresh to order.
Ambience
Crave Burger infused modern architecture of fine-dining design with the old-school all-American burger joint concept to promote a comfortable ambiance, where family, friends, and colleagues can take a timeout and relax.
Expansion and Franchising
By mid-2009, Crave Burger has opened its doors to franchising and has has led the way into capturing the rest of the country through the stomach by opening of two more branches in Iloilo City, a cookout trailer in Bacolod City, and five more branches in Metro Manila.
Crave Burger's branches in Iloilo are in Casa Plaza, Jalandoni Street and Ledesco Village.
Crave Burger opened in White Plains, Quezon City last January 10, followed by BF Resort in Las Pinas, BF Homes and Teachers' Village near UP Diliman. Soon, Crave Burger will open at SM North Edsa. All these Metro Manila branches are franchises, proof that Crave Burger has an appeal even for non-Ilonggos.
Crave Burger offers three franchise packages – kiosk, junior store and full store.
Visit www.craveburger.com