Sikat Kids!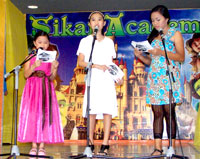 Part One
Kids and teens enrolled in Sikat Academy this summer were transformed into different fairy tale characters during the culminating activity of Sikat Academy. There were dancing, singing and newscasting presentations in the setting of Shrek.
Sikat Academy's president Atty. Jobert Penaflorida created this summer talent workshop to discover and nurture the talents of kids and teens. It is already on its second year and a successful one at that.
They have courses on acting, singing, dancing, newcasting and leadership.