Reel it in!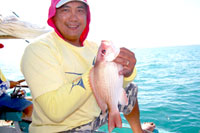 Parent Category Champion - Boy Jucaban.
Fish Angling as a Hobby
"Fishing is the only sport where the opponent, or prey, is usually invisible. If you can't think like him, you won't outsmart him. If you catch him without thinking, you're not skilled, you're simply lucky. Luck isn't as much fun, or as fulfilling, as strategy-born thinking. Fishing was never a pastime or hobby for me. It's been an obsession since I first saw a fin." — Tom Mann
As Manuel Bong Sanagustin quotes America's famous legendary bass fisherman Tom Mann, he reminisces on the memories he and his father shared of their favorite sport. It was love at first catch when Sanagustin reeled in his first fish at the age of 10. The view of endless water, the taste of sea salt, a bait hanging at the end of his fishing line, and just he and his father sitting alongside each other at every fishing trip further heightened their hobby in fishing and strengthened the bond between father and son.
Deep sea-fishing first an obsession later became a sport that both men engaged in and only men who spend their leisure time by the sea could understand the love affair that Sanagustin has with the vast ocean.
Fish angling or fishing is as much a way of life than it is a sport. There are different kinds of fishing and sportsmen-like fishing. As a sport, the fisher can throw the fish back after having caught it, keep the fish and prize it on their wall or eat their caught fish.
Just like any sport, in fish angling, there are specific methods for every different kind of an awaited catch. Fish angling does not simply mean casting any ordinary line hoping to reel in a shark. "It all depends on the species of fish you are targeting to catch," says Sanagustin. For some fishermen, the strategy of a successful catch either means using a net, a spear instead of a rod, fishing in fresh waters, using a large hook, casting a rope or preparing shrimp bait. But in the end, it comes down to the targeted species of fish. Since there are many varieties of fish, fishermen know that a successful catch means knowing the prey, the fish itself.
Aggregates Category Champion - Joshua and Boy Jucaban.
"Think like a fish…" Sanagustin quotes.
This hobby is also considered a mental dispute because fish anglers test their own intuitions challenged by their very own move. Every thought out decision is a risk for a failed or a successful catch. The game of the hunter and the hunted becomes an exciting one for the fish angler. The prey being the fish sets an anxious wait for the unexpected fish angler. More complicated than the game of chess, in fish angling, the angler cannot out-wit the next move of his prey and it could take hours before the angler actually catches his prey.
There is more to fish angling as a hobby than most people think. Fish angling is an inexpensive sport that most if not all can benefit from. Success is guaranteed in one way or another, with or without a fish to bring home. This hobby provides the opportunities to relax, bond with family and friends, appreciate the outdoors, and excite the mind but most of all, it develops confidence and builds the amount of patience – "it liberates peace that everyone should at least once experience in their lives," ends Sanagustin.
* * *
The photos were taken during the Go Fish and IGFA (Iloilo Game Fishing Association) 3rd Family Bonding Through Angling last May 8, 2010. It was participated by seven pairs of parent/guardian and child tandems.