Love for Digital WorX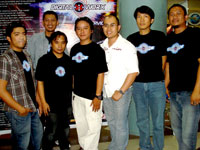 Rensie Paradero, Joel Molina, Ramjun Valasote, Lance Japitana, JV Perez and Algreen Estrella.
Digital art is one-of-a-kind and several visual artists have ventured into this area. Seven of them comprise the group called Digital WorxX, the first Ilonggo Association of Digital Artists. They are Rensie Paradejo, Ramjun Valasote, Algreen Estrella, Ritchie Baylon, Lance Japitana, Joel Molina and JV Perez.
The said artists are self-schooled in computer graphics. Fellow graphic artists served as their mentors as well.
Six years after their formation, these artists launched their first group exhibit entitled "Pilas sa Monitor". It was a fitting welcome to the age of digital art, which was also the theme of their exhibit.