Small Giant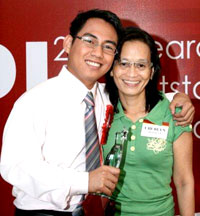 Armando with mother Churlyn.
The story of Armando Araneta Jr.
THIS young lad often receives criticism from other people because of his petite size. Hurt and always embarrassed, he never showed how he felt. He promised to himself that someday, from a small person like him will rise a big name. He is Armando Araneta Jr., a man with enthusiasm and determination.
He graduated high school with flying colors and that he continues to excel in college despite many criticisms and life's trials.
Failures
There are times in his life when he considers himself a failure. That is when he lost in competitions he joins in. But, he uses those failures as his stepping stone to do well and excel more in the next challenge to come.
He would always engage himself in community services and other co-curricular activities to test his potentials and to boost his self esteem.
It has been his routine that before he starts his day he would seek guidance from God, ask for strength and for him to perform his duties well.
Maritime Course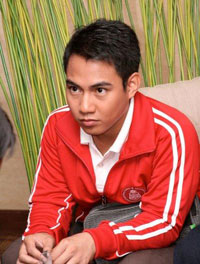 As one of the Ten Most Outstanding Expat Pinoy Child of the Bank of the Philippine Islands.
Armando is a Bachelor of Science in Marine Transportation (BSMT) student of John B. Lacson Foundation Maritime University-Arevalo (JBLFMU-A). He is the youngest of the four children of Mr. and Mrs. Churlyn and Armando Araneta. His father, who is also a seafarer, influenced him to take up his Maritime course. Because he is the "bunso", he got the most attention and love of his family. This made him more confident in facing the quest of life.
Outstanding Student
Just recently, he graduated Magna Cum Laude and was chosen as a finalist in the Ten Outstanding Student of the Philippines (TOSP). Furthermore, last November 17, he received his P50,000 award, as one of the Ten Most Outstanding Expat Pinoy Child of the Bank of the Philippine Islands. This award honors the Overseas Filipino Workers (OFW's) children excelling in academic and non-academic field.
When asked, if what is his plans for the future, he replied, "I am looking forward to becoming a captain by the age of 29. And if opportunity strikes, I want to take up Maritime Law in Australia". If this happens, he will be the first Filipino seafarer to become a maritime lawyer.
Armando's story is a reminder to all of us that even a small person can dream and achieve it when his will and determination, as well as his faith in God, are intact.