PURR
Hongkong Kitchen turns 4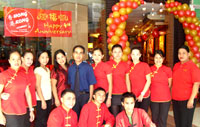 The men and women of Hong Kong Kitchen.
Hong Kong Kitchen turned four years old last May. Its management and staff celebrated this momentous occasion with a mass and lunch. The stockholders of Hong Kong Kitchen and its General Manager Arceli Abria, warmly greeted the guests, composed of media practitioners and business partners. Everyone had good things to say about the sumptuous food made by Hong Kong Kitchen's culinary staff, headed by Chef Law.
Hong Kong Kitchen is located at Robinsons Place Iloilo. It also has a branch in Bacolod City. Soon, it will expand by putting up its second branch in Iloilo City, bringing Oriental cuisine closer to Ilonggos everywhere.
Hong Kong Kitchen is famous for its dimsum, congee, short orders, roasts, soups, noodles, fried rice, rice toppings, baked rice and desserts. Its food are not oily and have no MSG (monosodium glutamate).