I-TRAVEL
Plans for the City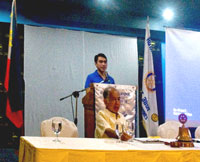 Councilor Lex Tupas speaks before the Rotary Club of Iloilo during its regular meeting.
Last May 19, 2010, the Rotary Club of Iloilo, the oldest Rotary Club in the Rotary District 3850, headed by President Bobby Pison took up future Plans for the City of Iloilo during its regular meeting.
First Councilor Lex Tupas spoke about it such plan as soon as the new administration takes over.
Tourism tops the agenda. Iloilo is not far behind when it comes to tourism. For everybody's information, Iloilo and even the island of Panay is blessed with 72 churches, established by the Agustinian Fathers in ancient times. Iloilo City has some of it!
Next is traffic improvement through continued education of the citizenry on traffic rules and regulations and construction of skyways.
We should cooperate with our city officials by following traffic rules, as well as using the facilities that were provided for our use – using the overpass for our safety and convenience.
Folks, the future of our city is in our hands, through the proper guidance of our city officials.