The USA Scholastic Art Awards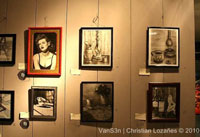 Scholastic arts.
The University of San Agustin Bachelor of Fine Arts held the 2nd Scholastic Art Awards at Museo Iloilo. The Art Awards is an exhibition of excellent artworks that aims to so promote the prestige of art making and thereby launch the talents of aspiring artists. The competition's categories were: painting, drawing, mixed media, sculpture and digital fine arts.
The featured works were done by the students under the Bachelor of Fine Arts course for the academic year.