Beauty Talks
By Vivian T. Velez
Photos by Glen Jumayao
Miss Silka Iloilo 2010 candidates share their thoughts on beauty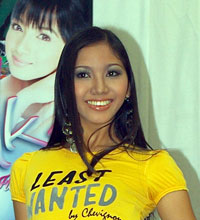 Carlota Jane Caillo.
"Beauty is useless but character is the best." This line is mostly heard from a candidate at a beauty search. Here, Ms. Silka Iloilo 2010 candidates share their thoughts on beauty before they vie for the much coveted crown tomorrow, May 25, 6 PM at the CAP Auditorium.
WHAT MAKES A PERSON BEAUTIFUL
It comes naturally from the inside - confidence and the drive of becoming beautiful. It is how you see yourself." - Krystel Ann Natividad, 19, Central Philippine University
It is when that person is contented with what God has given. It is when that person shows appreciation to everything. - Sheryl Maye Manalo, 20, Nursing Graduate
Inner personality and attitude make a person beautiful. The physical look is less important, for physical beauty has no use if the attitude does not match the person's character. - Regina Via Poblacior, 15, Janiuay Nat'l. Comprehensive HS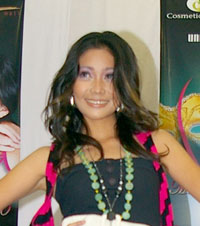 Jocelyn Caceres.
A person is beautiful physically. Intelligence also makes one beautiful. What is the use of beauty if your brain is empty. - Siena May C. Sinoy, 17, West Visayas State University
IS BEAUTY IMPORTANT TO SUCCESS?
Beauty has an impact on the success of a person if he or she has a good attitude. - Mariah Lainette Masculino, 18, Central Philippine university
Today's generation believes that beauty is our one way ticket to success. I am a living advocate to this statement. However, I would like to stress that the kind of beauty I am referring to is not physical but most the inner beauty – that of the mind and heart." - Charmaine Gail Nuñez, 22, freelance host
Beauty can produce success if you use it for good. I'm referring to physical, emotional and spiritual beauty. - Ronelie Algare Pador, 17, Central Philippine University
IN WHAT WAYS HAS BEING BEAUTIFUL BENEFITTED YOU?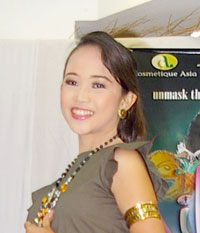 Siena May Simoy.
Being beautiful benefited me in joining a pageant like Ms Silka. It helped my personality; made me more confident in showing people that I am not just beautiful but also talented. - Sarah Mae Robles, 16
It helped me develop myself as a person. It made me presentable. - Kelly Catedrilla, 17, West Visayas State University
I was able to join beauty pageants and organizations that suit me. And whatever I speak of, people listen.- Carlota Jane Caillo, 17, West Visayas State University
HOW TO ATTAIN BEAUTY
Be a responsible son or daughter. Be aware of the environment. - Mary Sunshine Job, 18, University of the Philippines in the Visayas
We all know that beauty is the outer manifestation, an inner glow. Have that positive outlook.- Sheryl Malaca, 19, John B. Lacson Foundation University
Believe in yourself and never underestimate your capacity. Have regular exercise, proper diet and stay simple. - Arielle Louise Chua, 15, Iloilo National High School – SSC
So, who's the most beautiful of them all? Pick your bet. Watch the grand finals of Ms. Silka Iloilo 2010 tomorrow, May 25, 6 PM at the CAP Auditorium. (With reports from Phoebe G. Robles)