Pasta at Bluejay Coffee & Deli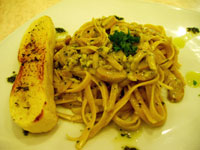 MUSHROOM AGLIO OLIO. Mushrooms and garlic delicately sauteed in olive oil and pesto.
Yes, there's pasta at Bluejay Coffee and Deli and we got to taste three of its well-loved pasta dishes when the management invited us for a food tasting.
There's Seafood Marinara, which is a Bluejay Coffee and Deli best seller. The pasta was cooked just right and the flavor was perfect, thanks to the tomato concasse and fresh seafood like shrimp, clams and squid. Those who are particular about the kind of fat that goes in their body will surely love Bluejay's Seafood Marinara.
Miners Carbonara is Bluejay's specialty pasta. It is a rich and tasty combination of bacon, chorizo and parmesan. Protein lovers will definitely enjoy this one.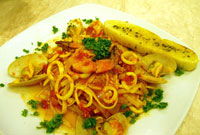 SEAFOOD MARINARA. The savory goodness of fresh seafood in tomato concasse.
Another favorite is Mushroom Aglio Olio. It consists of mushrooms and garlic that were delicately sauteed in olive oil and pesto. It's fragrant as well, thanks to the basil leaves and garlic that make up the pesto sauce. It is so creamy and the mushroom slices provide the dish with an extra treat. When in Bluejay, I normally order Seafood Marinara. I think I've found another favorite with Mushroom Aglio Olio.
And since we are already on the topic of pasta, let me share one myth that culinary expert Margarita Fores wants corrected. As quoted in the Philippine Daily Inquirer, "Some people add oil while cooking pasta to prevent the pasta from sticking together. But I found out in Italy that you are not supposed to do that because this will make the pasta oily and prevent the sauce from coating it properly. The result will be flavorless pasta," she said. There!
(Bluejay Coffee and Deli is located at Amigo Plaza Mall and Gen. Luna Street. For reservations, deliveries and inquiries, call at (033) 3364071, (033) 3381810. For more information, visit their Facebook or Twitter sites: bluejay_coffee.)