The election is over.
But it looks like the word war between mayor-elect Rene Cordero and outgoing Mayor Restituto Mosqueda of Estancia, Iloilo is far from being over.
The city government is bent on giving quality healthcare service to its constituents as evidenced by on-going improvement and construction of health centers in all districts.
"Health centers are preventive measures (against diseases). These projects have big impact on the life of our residents because they can easily seek medical help, instead of going to the hospital," Mayor Jerry P. Treñas said.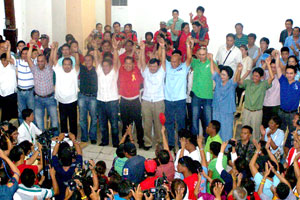 EC GARCIA
A police chief who could not police his turf.
This was just one of the accusations hurled against Senior Insp. Bonifacio Ancajas who was asked to be relieved as San Enrique Police Station chief.