The Pisons' continuing legacy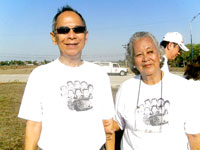 Tedy Pison and Pacencia Labad.
The third generation of the Pison family continues the legacy of their forerunner Donato M. Pison, as they unveiled the chimney monument, a structure reminiscent of "muscovado" industry, in Pison Rutonda.
The inauguration coincided with their yearly Mayo Uno reunion celebrated by the Pison clan since the 1930s.
Donato Militante Pison, Sr. was among the first Ilonggos who engaged in sugar production of muscovado in the 1890s.
He also cultivated a 10-hectare rice field and in time acquired the neighboring fishponds and ventured into salt-making. In 1981, he was honored posthumously as one of the "Ten Outstanding Iloilo Pioneera" by CREBA, ISOA, and the Chamber of Commerce and industry of Iloilo, for his valuable innovation in the salt industry.
Inspired by their inheritance, the heirs became entrepreneurs themselves. In a bold move to develop the city's real estate industry, they put up KAPIDECO (Kauturan Pison Development Corp.), Riverside Holding Corp., and S. T. Pison Enterprises, Inc.
This man lived his dream with passion and great vision — a vision which is now shared by the third generation, ever conscious of each small step made towards the reshaping of modern Iloilo.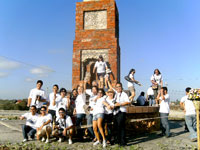 Celebrating a legacy.
Where the salt business was once is now a symbol of rapid development and Iloilo's great potential.
The chimney started it all. A hundred years later, it is a legacy that the Pison clan offers to the people of Iloilo.
On the upper and lower base of the monument are relief sculptures depicting the industries which the Pison family strives to venture.
The chimney artwork was designed and executed by premier Ilonggo visual artists, Edward Defensor, who used to be Donato Pison's college classmates, together with Fred Orig and Mark Gonzales.