The great sandwich indulgence at Coffeebreak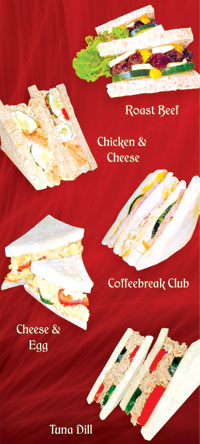 Coffeebreak's cold sandwiches.
Aside from love affairs, perhaps the most pleasurable activity we so ever regret ending is that oh-so reviving and ever engaging cup of coffee. And especially if it's a Coffeebreak cup, may it be your favorite hot caramel macchiato or tiramisu frappe, the last sip is always hard to swig. Or perhaps, it's really the whole Coffeebreak experience that's really hard to end.
Now, you've got more reasons to engage a Coffeebreak. Aside from the sweet indulgent servings of pastries and swooned-over cakes, Coffeebreak will let you relish the medley of superb-tasting and pleasurably-cold, Coffeebreak Cold Sandwiches. This new offering from your most-loved gourmet coffee shop will surely make your Coffeebreak time extra delightful.
CB Club Sandwich is a lip-smacking double-decker. A medley of ham and cucumber, egg salad, tomato, and cheese stuffed in manifold layers of white bread.
CB Tuna Dill, the scrumptious combination of the fresh goodness of tuna salad, cucumber and tomato filling in between bread layers.
Taste cheesy chicken with every mouthful of CB Chicken & Cheese Sandwich. Relish the hefty serving of chicken ham, dished with a load of tomato and cucumber in super engaging mayo dressing in between layers of wheat bread.
If you fancy some beefy goodness, try CB Roast Beef Sandwich. Enticingly stuffed with rolled beef slices and filled with a load of gooey mustard and fresh cucumber, this delight will surely captivate your palates.
Relish the delicious CB Cheese and Egg. The sandwich will remind you of the wonderful breakfast you always miss. With every bite, savor the cheesy burst combined with the irresistible egg salad and mustard dressing, garnished with the fresh mix of cucumber and tomato.
With these delights, be sure to make your everyday a sandwich superb day!
(Cold Sandwiches available at CB Avenue, CB Valeria, CB Nelly's Garden, CB Metro, and (Airport outlets) CB Predep, and ICVB)