Oroa's cupcakes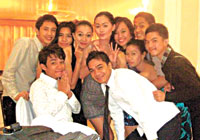 The makers of OROA Cupcakes.
The global recession and competitive businesses do not stop these young entrepreneurs from pursuing their passion.
Jan Rae Aguillos, Riva Bilbar, Kaye Salomeo, Lorene Joy Adorio, Emman Suarez, Evelio Barion, Charice, Hyrra Madalogdog, Elver Magon, and Ryan Laporga are all AB English seniors of West Visayas State University.
Not content with just mastering declamation and English, they also enhanced their skills in baking. Thus, came the birth of OROA's Cupcakes (OROA stands for Order of Apollo).
The idea of selling cupcakes and puto cheese all over the university campus came about when they were planning for a Christmas party and needed to raise money for it. After the exchange of gifts and the fine dining experience from the profit they earned from selling cupcakes and puto cheese, they realized that there is a demand for these products. Thus, the next venture was raising funds for their graduation party and then the business just continued.
Poeey Labating (PL): With your limited capital, how were you able to pull off this good business?
OROAS's Cupcakes (OC): We make sure that the ingredients we put in the pastry, like eggs and milk, are fresh. We make different flavors of puto cheese and cupcakes everyday so that the costumers will find our product interesting. Cupcakes are sold at P6.00 each, puto cheese at P3.00. Cheap, but looks good and tastes even better!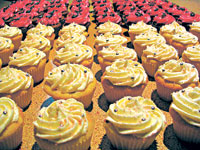 Buttercream Cupcakes.
PL: How do you balance student life and your business?
OC: Oroa is a group of 10 members, so every one has a task. Like, buying the raw ingredients a day before, making the pastry upon waking up in the morning, and fetching and bringing to the school. After each class, we sell them to our classmates. We help one another, that is why things are going smoothly for us.
PL: How would you describe your business five to 10 years from now?
OC: Having a pastry shop named OROA where everyone drops by for guilty pleasure!
PL: Any tips you can share to aspiring student-entrepreneurs?
OC: As long as you are confident with the product you are selling, don't give up. Customers have good taste. They'll look for you if you satisfy them with your treats.
For details please contact OROA at 09082250122.