Camella's Fabulous Summer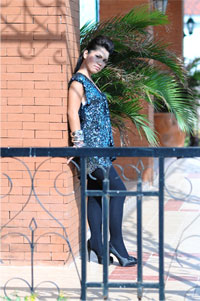 A pose at the clubhouse.
Every summer season, Camella's Savannah transforms into an attractive getaway for people searching for the perfect place to unwind, relax, and breathe away from life's pressure. More than a residential themed community boasting with tremendous amenities, Savannah strategically located at Pulo Maestra Vita in Oton, Iloilo seems to be an alternative summer destination of homeowners and visitors these days.
With two fascinating clubhouses located at Glen and Trails, beach lovers enjoy dipping and plunging themselves in Savannah's swimming pools amidst the blistering heat of the sun. When you have these two attractive clubhouses right within your neighbourhood, who could resist its inviting summer ambiance? Family or group picnics can also be held within the clubhouse or nearby parks. The community's tranquil ambiance and scenic views seems to be eye-catching. With well-paved roads, friendly neighbourhood, and well-managed community, a walk around the place can be a pleasurable and worthy daily experience. Security and exclusivity are two stand-out words that best describes community life at Savannah.
As summer season mesmerizes Camella homeowners, 16-year-old newly-launched Ilongga singer, Sheila Barrios who recently released her first single in local FM stations entitled "Ginpalangga" experienced the beauty of spending summer at Savannah through her photo shoot. More photos are posted in her webpage www.sheilailonggopop.blogspot.com.
International travel photographer, Jose de Luna took brilliant shots of the community. Uprising Ilonggo fashion designer, Ram Silva took charge of giving Sheila the perfect summer fashion makeover with stylist Nonoy Mosquera.
Camella is not just a summer destination but a venue for artistic perspective.
Summer is not yet over at Camella. Come and have a glimpse of its serene ambiance and premier urban lifestyle for you and your family. Living at Camella is like spending a lifetime vacation and endless summer break. For more information, please call Camella business office at (033) 337-7699.