PURR
Miss Silka Iloilo 2010 pageant moved to May 25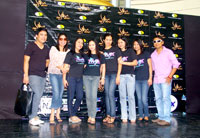 Organizer of Miss Silka Iloilo is TMX, Travel and Marketing Experts.
The Miss Silka Iloilo pageant was moved to May 25, 6 PM at the West Visayas State University Cultural Center. Fifteen flawless, talented and brilliant ladies will compete in the said pageant.
Last May 2, 14 of these candidates presented their varied talents – dancing, singing, martial arts and declamation. They each vied for the Best in Talent award, which will be given out on the pageant night.
Miss Silka 2010 is a project of Cosmetique Asia Corporation that aims to promote the true beauty of the Filipina as well as the Silka brand.
The winner will have the chance to be part of the 'Alagang Papaya' Silka TV commercial that the company will make. Last year's winner is, in fact, now busy shooting for the company's new commercial. She will get the chance to appear with Iya Villania, Silka's celebrity endorser.
Miss Silka Iloilo 2010 is being organized by TMX, your travel & marketing experts, in cooperation with Mang Inasal, Mindworkx, Lecit-E, I-travel Express with Deocampo Original Barquillos, Hotel Del Rio, Amigo Plaza Mall, Robinsons Place Iloilo, Citi Appliance and Hopewell Finance Corporation. The official tabulator of the pageant is STI – Iloilo.