Hundreds of supporters of leading mayoralty candidate Vice Mayor Jed Patrick Mabilog and congressional bet Mayor Jerry Treñas did their own version of "People Power" amid the non-proclamation of their political bets.
Following a tension-packed protest the other night, former Justice Secretary and Iloilo City mayoralty candidate Raul Gonzalez, Sr. accused supporters of his political rivals of promoting a mob rule.
The Commission on Elections (Comelec) here has decided to hold a special automated election for a village in Guimbal, on Monday, May 17.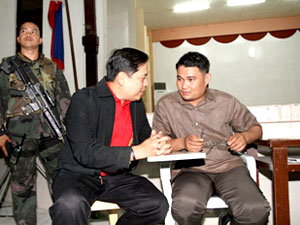 JOHN L. GUEVARA SR. PHOTOS
Governor *
DEFENSOR, Arthur Sr. 294,089
TUPAS, Raul 259,023
JAEN, Josil 4,762
Vice Governor
GARIN, Oscar Jr. 360,410
ARMADA, Roberto 208,102
Board Members
1st District
NAPULAN, Macario 55,182
FLORES, Carina 37,707
FLORES, Gerardo 27,035
*as of 12 p.m. May 12, 2010