Treñas, Mabilog supporters protest proclamation delay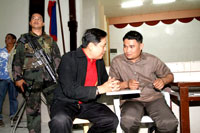 Winning mayoralty bet Vice Mayor Jed Patrick Mabilog talks to City Election Officer Atty. Roberto Salazar inside the Department of Education Social Hall while throng of their supporters mass up outside the building early morning yesterday.
Hundreds of supporters of leading mayoralty candidate Vice Mayor Jed Patrick Mabilog and congressional bet Mayor Jerry Treñas did their own version of "People Power" amid the non-proclamation of their political bets.
The protest actions, which run from Wednesday evening until early morning of Thursday, also saw the "locking up" of members of the board of canvassers, officials from the Commission on Elections, and some lawyers, inside the canvassing center at the DepEd Social and Cultural Hall at Mabini St., Iloilo City.
Before the canvassing resumed at around 8:00 p.m. of Wednesday, supporters of Mabilog, Treñas , and leading vice mayoralty candidate Joe III Espinosa held a prayer vigil outside the canvassing center.
The supporters believed that the prayer vigil is for the speedy proclamation of their bets and for the losing candidates to gracefully accept their defeats.
But the tension heightened when the supporters learned that Treñas and Mabilog, who were way ahead in the counting of votes, could not be proclaimed.
It was gathered that Treñas got a little over 100,000 of votes and was way ahead by 25,000 votes from his closest rival, incumbent lone district of Iloilo City congressman Raul Gonzalez, Jr.
On the other hand, Mabilog scored more than 70,000 of votes, making him ahead by more than 15,000 from his closest opponent, former Justice Secretary Raul Gonzalez, Sr.
Espinosa, meanwhile, garnered more than 60,000 votes to place him on top ahead by 4,000 from closest rival, Julienne Baronda.
It was gathered that while the prayer vigil was going on, members of the board of canvassers also did not favor the petition of Gonzalez's legal counsels, led by lawyer Eugenio Original, a candidate for the Iloilo City Council, for the suspension of canvassing.
However, things went sticky after Comelec Iloilo City averred that there will be no proclamation of winning candidates in all political positions in Iloilo City.
This is in consonance to Resolution 8914 wherein Comelec ordered the board of canvassers to bring the laptop of the consolidation and canvassing system operator in Manila to fix some "problematic" data.
"May problema sa duha ka presinto nga gin-canvass naton. Imbes nga election day result ang i-back-up sang maestra, final testing and sealing day result sang back-up niya. So, amo na ang na-upload namon," said city election officer Atty. Roberto Salazar.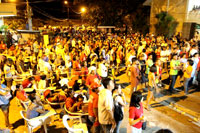 It was then that supporters of the two leading candidates apparently vented their ire on whoever were "responsible" for the delay in the proclamation of winners.
As they insisted on the proclamation of the winning candidates, individuals inside the Social Hall could not go out because of the threats posed by the supporters, who were already doing some sort of an indignation rally outside.
Several hours later, the supporters went on with the demonstration rally to include chanting the names of Mabilog and Treñas and doing noise barrage.
The tension was somehow quelled when Mabilog arrived at around 2:00 a.m. yesterday.
The mayoralty bet, who was donned in a bullet proof vest and with a lot of security personnel in tow, went inside the Social Hall and negotiated with Salazar.
The Comelec then showed to him the method of transferring the laptop and the memory card to Manila.
"Nangayo kami sang assurance man lang nga ang makina indi ma-tamper ang results kag taga-an man kami sang 100% assurance paagi kaina sa ginpakita nga proseso nga gin-print nga mga resulta kag ginpirmahan," Mabilog said.
For Salazar's part, he explained that if they could generate report for canvass and proclamation amid some discrepancies, it would still appear erroneous and could possibly lead to some electoral cases.
"We have to comply with the standing order, which is Resolution 8914. We have to comply with that. Otherwise, we will be made answerable before the Commission," he added.
After several minutes of talk and explanations, Mabilog went out and called on their supporters to go home and respect the Comelec's decision.
No implication
Several supporters claimed that there's no reason for the non-proclamation even if the votes that were supposedly generated by the "defective" compact flash cards of the clustered precincts went to the Gonzalezes.
They claimed that the votes won't be enough for the Gonzalezes to clinch a win in the elections.
But the Comelec stood pat that they would follow the order of the Comelec en banc not to proclaim any candidate until the defective CF cards will be okayed.
Mabilog, on his part, claimed that there is no serious implication with regards to their non-proclamation except that they were not formally announced as winners.
When asked for a possibility that they could still be cheated, Mabilog claimed that there's always that possibility as long as they won't be proclaimed.
He also believed that there's nothing wrong with what their supporters did.
"Daw wala man ako sang nakita nga malain ang mga tawo nga nag-ubra sang ala-People Power kay ila diretso sa tagsa-tagsa sa ila nga para maka-express sang ila nga mga sentiyemento," he said, as he called for vigilance among the people of Iloilo City.
Target
While Mabilog gets a warm welcome upon arrival, Original, who stood as lawyer for the Gonzalezes and also a city council bet, left the social hall.
But as he went out, he was insulted, showered, and thrown with bottled water by irate supporters.
The three policemen who escorted him were also hit by what was thrown at the lawyer.
But Original is not about to let his attackers go legally unscathed.
He claimed that he would file a case for serious illegal detention.
But when asked on who will stand as defendants, Original claimed that he is not sure yet.
"Indi pa ko kahambal kay kadamo tawo waay man mga ngalan na," he said adding that he is not also certain whether to include Mabilog or Treñas with the legal case.