As far as peace and order situation, yesterday's conduct of automated elections in Western Visayas went on without any major glitches.
Police Regional Office (PRO) VI public information officer Supt. Ranulfo Demiar claimed that they have not received reports of major criminal incidents all over the region.
The Philippine Army (PA) here in Iloilo has clarified the alleged participation of the members of New People's Army (NPA) in the burning of five precinct count optical scan (PCOS) machines placed in the Home Economics building of Caduldulan Elementary School in Miag-ao, Iloilo.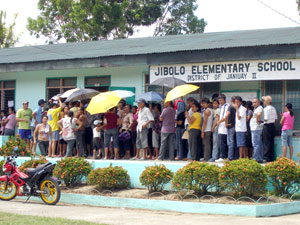 EC GARCIA
Voters from Poblacion, Guimbal, Iloilo, could not hide their disappointment after voting was suspended in the area.
Facilitated by Kontra Daya group, an election watchdog, some 87 international personalities are here in the country to observe the conduct of the first ever poll automation.