MOM WITH A HEART
Double Shift: A tribute to working moms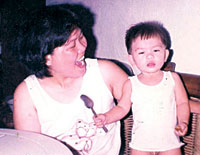 Pacita with son Renz.
Being a mother is like being in a very eventful and joyous journey that has many unexpected turns.
More often, being a mother is being treated as a regular chore, but it is much more than that. It is important that mothers would realize this and take time to slow down and breathe once in a while.
In this economy, it is very common for moms to also be a career woman. An average household requires two income earners in order to stabilize financial status and to stay the family out of debt. Unfortunately, there is no magic trick to make being a mom, working or not, any easier.
Analie Lignig, 38, a primary school teacher and a mother of two, said that having two big responsibilities needs a lot of time balancing. "Being a mother and a teacher is not that easy. I have to wake up early in the morning to prepare the needs of my kids and my working husband. And in the evening, after my work, I make sure to it that I would spend quality time with my family."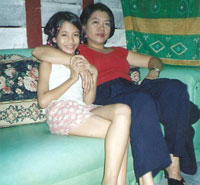 Gina with daughter Dessa.
Gina Vecino, 52, a government employee with four children, said "The satisfying part of being a working mom is that I could easily hand my kids the things they need without any hassle. The sad thing is I am sacrificing my time that should be spent with them."
Pacita Palacio, 49, a business woman with two kids, said, "Financial stability is the main reason why I work. In this generation it's not practical to be a traditional full-time housewife. I really need to think of alternatives in order to sustain the needs of my kids. But despite my work I really see to it that I fulfill my duties as a wife and as a mother."
There are so many roles that a mother takes on, that makes it impossible for a mother to perfect any of them. This lack of imperfection can be too much for some mothers, but an important thing to remember is that mothers are human as well.
To all the full-time and working moms out there we salute you. Happy Mothers Day!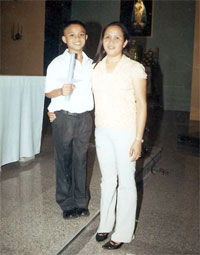 Analie with son Bhob Andreev.
Children's testimonials for their working moms.
The one who has been more responsible molding me to become a better person is my mom. Despite her busy career she still cares and manages to spend quality time with our family. I thank God for giving me a mom like her.–Rae
My mom is cool, very supportive and beautiful. She always supports me every time I join competitions in school. I could still remember when I first joined a pageant, she absented herself from her work to watch the contest. She told me not to worry because she knows I can to it. With that encouragement from her, I won in the competition. And I dedicate my victory to her. – Dessa
Mama is a good teacher and a mother. She always teaches me my assignment and cooks for us. I love her so much. For me she's the (best) mom in the whole universe. – Bhob Andreev