TERRA
Mediterranean cuisine at its best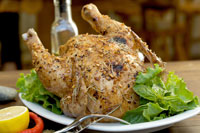 Terra Roasted Garlic Chicken.
Summer is never complete without the crisp breeze and the hypnotic sound of the sea. It is the perfect time of the year to spray on some SPF, put on that wide chic hat, and feel the warm grains of sand with your bare feet. Don't you just wish you can spend an afternoon or two on a shore in Ibiza or Sicily? You might be wondering how it feels to be in a romantic place like Santorini or ponder whether or not the Comos Beach in Crete will take your breath away.
Still wondering? Wonder no more. There's a new place in town that is more than willing to suffice your flair for Mediterranean cuisine at least. You may neither see the vast sea kissing the shore nor its fresh scent lingering but you'll absolutely taste the exquisite goodness of Mediterranean cuisine.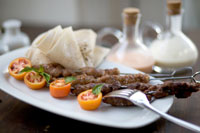 Terra Souvlaki.
An aptly named resto at the Avenue situated at the nightlife hotspot Smallville complex, Terra (derived from Terra Cotta, a reddish brown ceramic often used in the Mediterranean), brings their cuisine closer to the Ilonggos. Conceived in Bacolod by a family of entrepreneurs, Terra takes pride of being the first ever Mediterranean restaurant in the city. Geared towards creating a niche for health conscious gourmands, Terra has concocted an array of to-die-for appetizers, pastas, and salads that are guaranteed to satisfy even the discriminating taste of a seasoned connoisseur. "We guarantee that we always serve fresh and never frozen," says Chef Miner del Mundo, the culinary genius who brought Terra to life. True, they even have neither a freezer nor a microwave in their kitchen!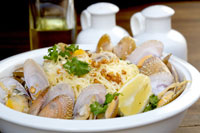 Terra Lemon Clams Pasta.
The cozy interior is assumingly very Mediterranean that it renders a feeling of the immediate comfort of Ibiza mixed with a hint of sophistication of Sicily and the romantic ambience of Santorini. It's so real that you'll almost forget you're in Iloilo.
But the bliss doesn't end there. Wait until you savor the goodness of the yoghurt-marinated Souvlaki that goes perfectly with the Greek Gyros, a presentation of succulent char-grilled meat seasoned perfectly along with tomato, lettuce, onion, and feta cheese. And let's not forget the heavenly light Lemon Clams, an impeccable fusion of flavors with angel hair pasta with a smack of parmesan cheese drenched in extra virgin olive oil, a treat so delightfully light yet unforgettable. But if you're yearning for a serving of a fresh salad, try the Walnut Rocca, a mesclun salad with roasted bell pepper, candied walnut, and parmesan shavings in honey balsamic dressing,–a crisp, sweet, fragrant, and soothing experience out of the plate. For appetizers, you shouldn't miss the Mezes, a collection of the lemony taramosalata, the minty and milky tzatziki, the garlicky chickpea paste with tahini, and the Aubergine dip that is never delectable without a slice of whole wheat bread or of a regular pita.
That's just some of the mouth-watering culinary delights that Terra has prepared for the Ilonggos. Browse their menu and you'll see more. Whether it's steamed, charcoal roasted or pan fried fish that can be relished fresh that is unequivocally gratifying such as the Tuna Machiavelli or the noteworthy Greek, Romaine Ceasar salads or expensive and extraordinarily pleasing wines, Terra has a lot to offer to suffice the piquant gastronomic wants and needs of the fastidious Ilonggos.